Product Feeds
We've had so many questions from clients about getting their products to show up on Google search result pages. Understandably you want to be where the highest concentration of eyes are, and you just can't deny the power of Google Shopping. The process of getting your product catalog uploaded to Google and then getting it approved so you can run ads can be a bit of challenge if you've never had to do it before.
Follow along in this multi-part blog post series as we explain just what the heck Google product feeds are, how they can be denied and what to do if it happens to you. If you get through this post and decide this is not for you or you just don't have the time to complete it yourself, give us a call or drop us a line and we'll be happy to get you setup.
So Just  What Exactly is A Product Feed?
Simply put it is collection of all of the products which you sell on your e-commerce website. Product feeds are structured data, much like a spreadsheet, that contain your offers and provide all of the the product information which Google uses to run your Product Listings Ads; the higher the quality of your feed, the better campaigns generally perform. You can think of it as your product catalog.
So What Does A Product Feed Look Like?
Here is a screenshot of feed we recently configured for a client: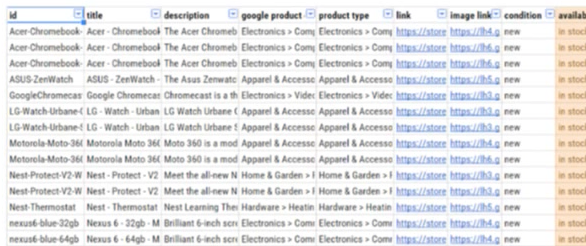 You can see that it has an IP, title, description, links to the product, stock availability and much more. It is a roadmap to every product which you sell and it tells Google all of the details about each of them. The goals is to provide Google as much information about each product as possible in the feed.
What Are Product Feeds Used For?
The foundation of your Shopping ads is your product data. It is this data which is provided to Google as a product feed like the screenshot above. As the owner of your product catalog, it's up to you to provide the most accurate catalog of data to Google — and transform it so it meets Google's advertising guidelines.
Once your feed is created you have to upload it to your Google Merchant Center, which is connected with Google's advertising system, with AdWords and builds the basics of your Google Shopping campaigns.
Which Feed Types Does Google Shopping Use?
Google actually has 2 feed types:
Regular Feeds – this is the core, holistic type of feed mentioned above. Its the full snapshot of your product catalog.
Online Product Inventory Update Feeds – this feed allows you to easily update individual products when the price or inventory level changes. Rather than having to update the entire regular feed, you can make quick updates with this feed type. This feed type is processed much faster by Google.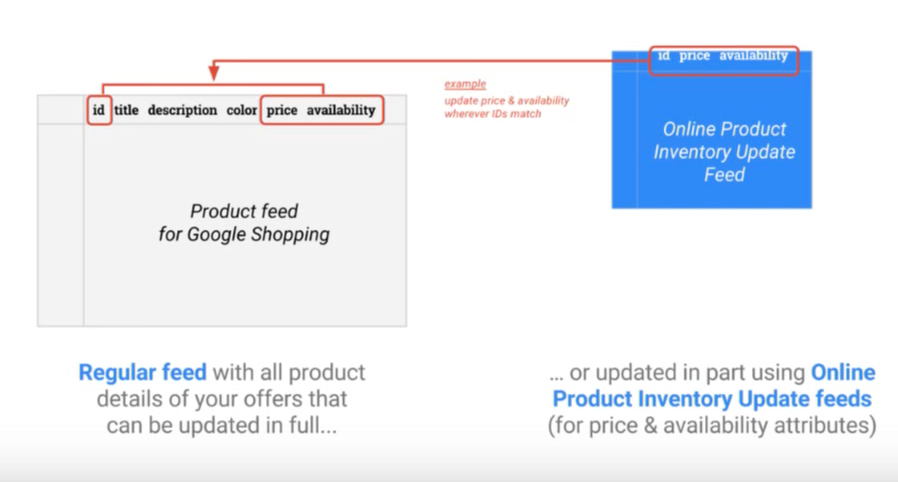 What Are The Required Feed Attributes?
This actually differs by country, but the core required attributes are:
id, title, description, link, image_link, condition, price, availability, gtin and brand
Additionally required attributes in most countries, depending on which products are being sold:
google_product_category, mpg, item_group_id, shipping, color, age_group and gender
Google updates the product feed specification once per year. You can learn more about these at https://support.google.com/merchants/answer/188494?hl=en
Let's specifically call out the g_tin attribute for a moment. You maybe asking yourself what this is. g_tin is the unique product number which Google expects you to provide. This should not be confused with your SKU or skew number. Multiple advertisers could have the same SKU number. Imagine if you sold candles and your Eucalyptus scented candle SKU was CANDLE-EUCALYPTUS-12OZ As you can see, this SKU is pretty common and anyone could use the same one. As such Google doesn't consider a SKU to be unique enough.
In May of 2016, Google started to require all merchants to provide them with a UPC, EAN or JAN barcode for every product in the feed in the form of a g_tin. Since barcodes are issued only once, there is no need for Google to be concerned about the uniqueness. Furthermore having UPC, EAN or JAN barcode allows Google to more easily show comparable products to your potential customers.
Many small business owners do not have UPC barcodes for products they manufacture themselves unless they are selling in established retail brick-and-mortar stores.
We understand this concern and we are able to work with you to secure barcodes. It is actually easier than you might think. Just drop us a line.
Why Are So Many Different Feed Attributes Required?
This screenshot shows how the various attributes from the data feed appear within the Google search results page and the Google Shopping results page.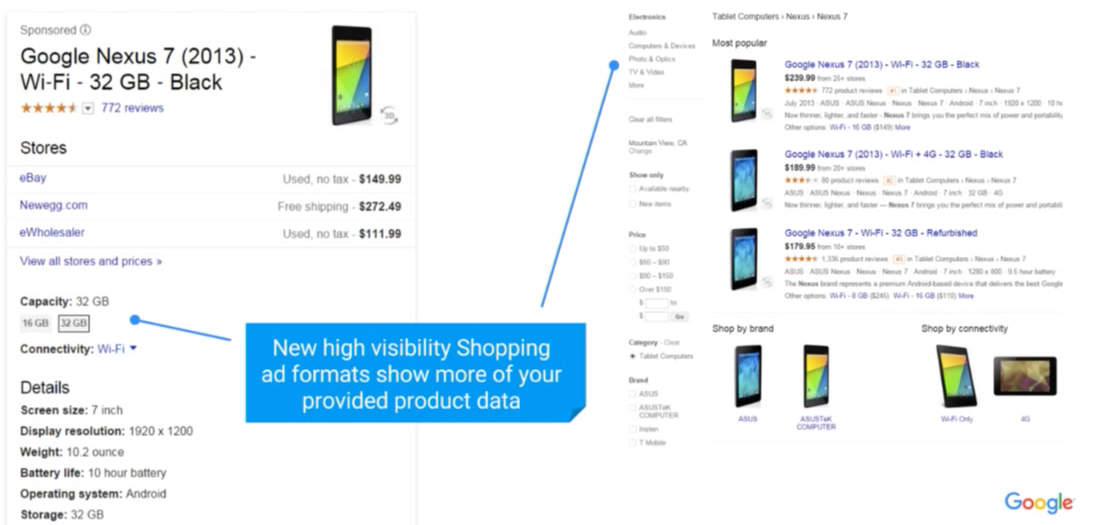 By having all of the data attributes filled out you're ensuring that Google presents your product to your potential customers in the best light possible. It also ensures that your potential customer can see as much data as possible before they actually click to your website. More well informed visitors are more likely to ultimately buy when they click through – as we all know, every click costs you money, and by having as many attributes as possible will in the end save you money since everyone doesn't need to click through to find this data.
How Often Should Feeds Ideally Be Updated?
Regular Updates
Update as often as your offer information changes — up to once per day
Preferably schedule data feed to be updated automatically
Remember to at least upload a new feed at least once every 30 days
Best Time to Upload
Ideally schedule your feed to refresh in the middle of the night when your merchant site traffic is at its slowest
We recommend updating your feed on a daily basis. Imagine for a moment that you had 20 products go out of stock Friday afternoon. Let's say your office is closed on the weekend as most small business e-commerce tend to be. You now have your ads running all weekend long and searchers keep seeing your ads and clicking on them. This really presents a lose-lose situation for both your potential customer and you as the merchant when they see the item marked on your website as out of stock.
By automating the product feed update to Google on a daily basis, you will not be upsetting potential customers, losing out on sales and needlessly spending your ad budget on out of stock products.
What's Next?
We've presented a lot of data today about what Google Product Feeds are, the attributes which go into making up a feed and the frequency of which they should be updated. In part 2 of this series on Google Product Feeds we'll discuss how your product feed can be disapproved.
Bluehive Interactive specializes in making the running of your e-commerce website as easy as possible. We've setup up several feeds both manually and using some automated processes. We'd love to chat with you to learn more about your unique business needs, and discuss how we can help you get your entire product catalog on Google Shopping. Give us a call today at 412-275-6555 or drop us a line.