A must for local businesses.
Local-search visibility vs. SEO: Does your provider know the difference?
Local SEO isn't another flavor of SEO — it's an entirely distinct discipline. If your local SEO company isn't well-versed in the difference, you may be missing critical opportunities to reach your best potential customers.
If your customers are in your neighborhood rather than nationwide, local SEO is essential to a successful marketing strategy. This is especially important if your local market is saturated with similar competitors. With search engines putting greater emphasis on delivering local results to users' queries, it's a given that competitors with a complete local SEO plan in place will be found first.
Why work with us on local SEO?
Your business depends on local visibility
You don't have time to work on your local rankings
You haven't had success with your last local SEO company
Local SEO is one of our core marketing services
We consistently get great results for our local SEO clients
SEO tactics come and go. Instead of spending your budget chasing Google's latest algorithm, however, we build your local SEO campaign on solid marketing strategies. Our focus on the factors that truly matter helps create local visibility that endures and positions you for natural rankings growth over time.
The local SEO campaign we create for you involves work in several areas.
You can't focus on a single aspect of local search and hope to do well. Instead, you need a complete local strategy that covers all aspects of your local online marketing. We have spent years perfecting what works and what doesn't so that you can get sound services and sound advice. There are no miracles, no instant rankings, just hard and focused work that is built to last.
Some of the areas we focus on include:
Keyword research to determine how people look for your business.
Onsite optimization that provides special local signals to the search engines.
Online citation development to establish accurate business information in online directories.
Review strategies to promote your business.
Local link development to capitalize on your business relationships.
Google is still your most important local marketing channel. We'll make it work for you.
The local optimization cycle that never stops
We think everything is content. Pictures, words, links, local citation listings, videos, and even your physical location. It all tells a story and leads people to your business. Our services center around improving and promoting your content in all of its various forms. The cycle below is the process we follow to do so month after month. It never stops working.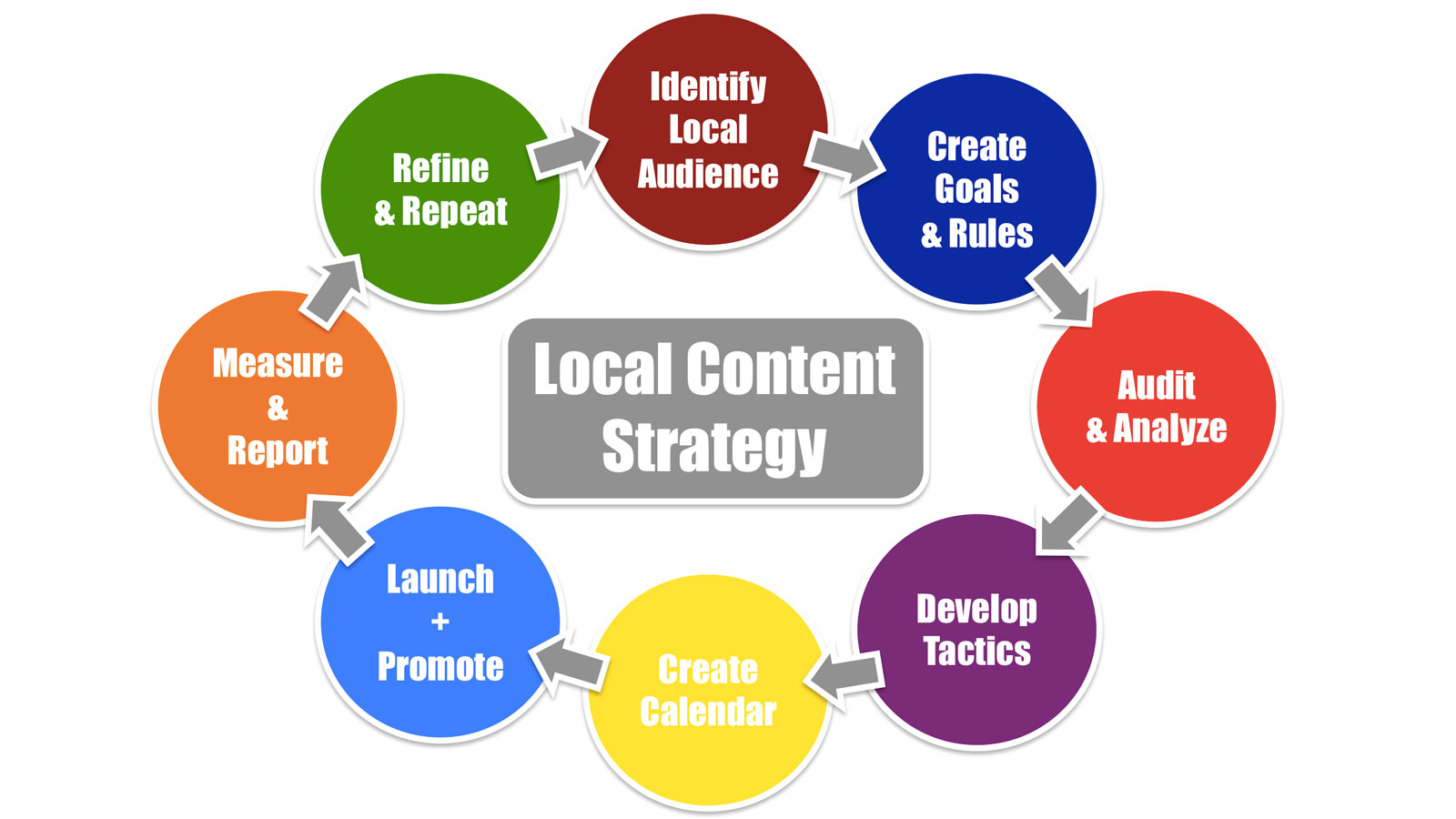 Whether you're new to local SEO, have spent too much already without results, or just want to work with people you can trust to have your best business interests at the heart of all they do for you, we'd love to talk with you.
Why Work with Bluehive Interactive?
We develop a customized service mix for you with only the services you need
We provide comprehensive reporting
You own all of your data and any assets we create for you
We don't have long-term contracts